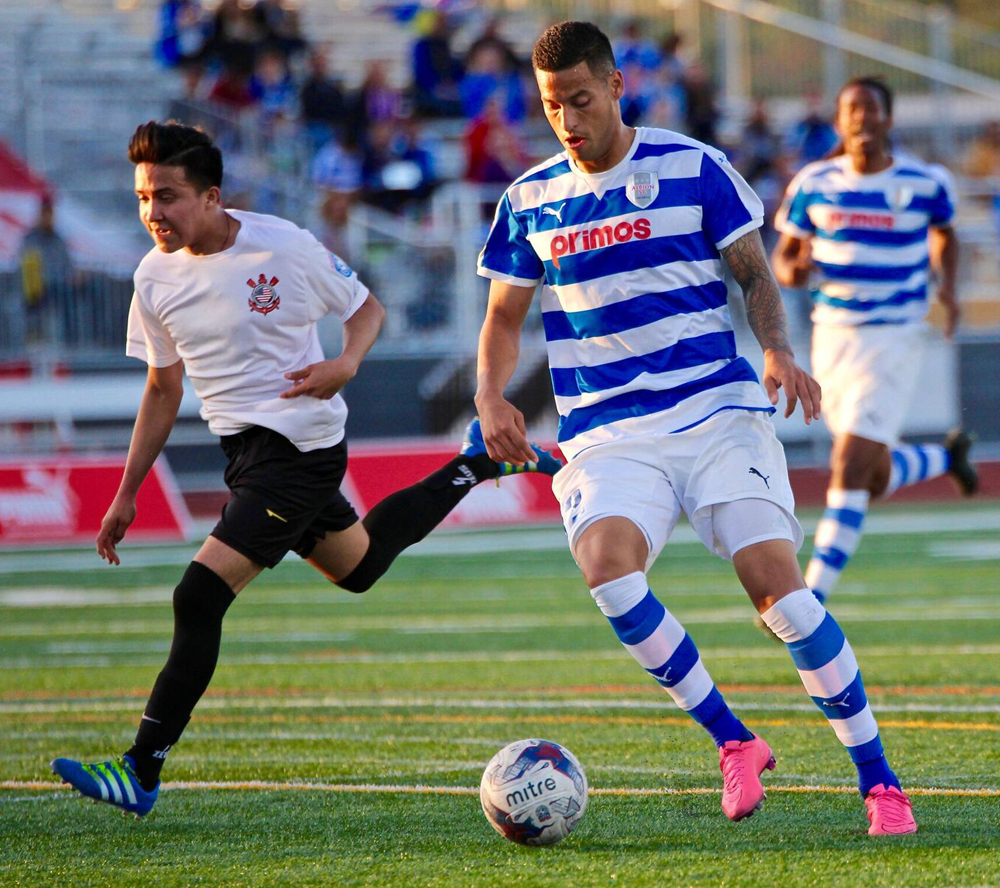 SAN DIEGO – Calif. (May 25, 2017)  Twenty-three year old Albion SC PROS forward Travis Nicklaw adds depth to the roster with a history of San Diego soccer and international playing time most young athletes only dream of.
Nicklaw's soccer experience traversed the globe after a stint on the Guam National Team from 2014 to 2016.
"[My brother and I] made our national team debut together in 2012 vs. Hong Kong in the [East Asian Football Federation] Tournament … Being able to represent our country and play together is something I will always cherish," Nicklaw said.
Nicklaw scored his first international goal in the FIFA World Cup Qualifiers on June 16, 2015 in a 2-1 victory over India. "It didn't really hit me until after the game that my brother Shawn played me the ball and gave me the assist," said Nicklaw.
"Scoring my first goal for Guam in a World Cup Qualifier was a very special moment, but having the assist come from my brother made it that much better."
Long before his international goal, Nicklaw played soccer at Nomads from age eight to 16 under Paul Holohan. "Playing for Paul helped me become very knowledgeable of the game at a young age and that has helped me excel throughout my career," Nicklaw said.
Nicklaw graduated from University City High School in 2012 as a dual-sport athlete in soccer and football. As a varsity kicker in 2010 and 2011, Nicklaw went 10 of 14 for field goals and 30 of 31 in point after attempts.
In 2011 Nicklaw won a CIF Championship in soccer. The following year as a senior, the soccer team boasted a 15-1-2 record.
During the recruitment process, Nicklaw relied on the mentorship of Erik Andersen from Notts Forest. "[Erik] was a huge help during my recruiting process because he gave me confidence to showcase my strengths to college coaches that allowed me to get the scholarship to San Diego State (SDSU)," said Nicklaw.
SDSU coaches Lev Kirshner and Matt Hall were the first to approach Nicklaw during recruitment. "Once I went on my recruiting trip and saw the campus, team, and what the program was about, I instantly knew I wanted to play soccer at San Diego State," said Nicklaw.
At SDSU Nicklaw made an immediate impact, playing 17 games as a freshman. During his senior campaign in 2016, he scored five goals. Four of those goals were game winners at pivotal moments.
The first game winner came during the season opener on Sept. 2, 2016 against Akron, the number one ranked team. Another game winner resulted in a sweep against Cal Berkeley on Oct. 23, 2016 ‒ the first sweep the Aztecs had against Cal since 2009.
"I think that Travis's best attribute on the soccer field would be his desire to win and leadership. He never gives up and always looks for ways to win," said SDSU and PROS teammate Sergio Enriquez. "The teammates around him can trust in him to get the job done."
Albion SC PROS Head Coach Ziggy Korytoski, who coached Nicklaw at SDSU, has witnessed his maturation as a soccer player. "Over the last year and a half, I have seen him mature as a player, and while he has always been a great athlete, his attention to detail has grown by leaps and bounds," said Korytoski.
The PROS are on a four game win streak in the NPSL and Korytoski credits Nicklaw as a vital part. "There is no question that his growth as a leader has had a positive impact on the recent success of our team."
As the fourth Mitre National Player of the Week in the 2017 NPSL season, Nicklaw's impact is obvious, but his time with the PROS goes beyond statistics.
"My highlight of my time thus far with this team is not only getting to know and play with new people who I can learn and grow with, but also getting the guidance and coaching … that has helped me become a better player."