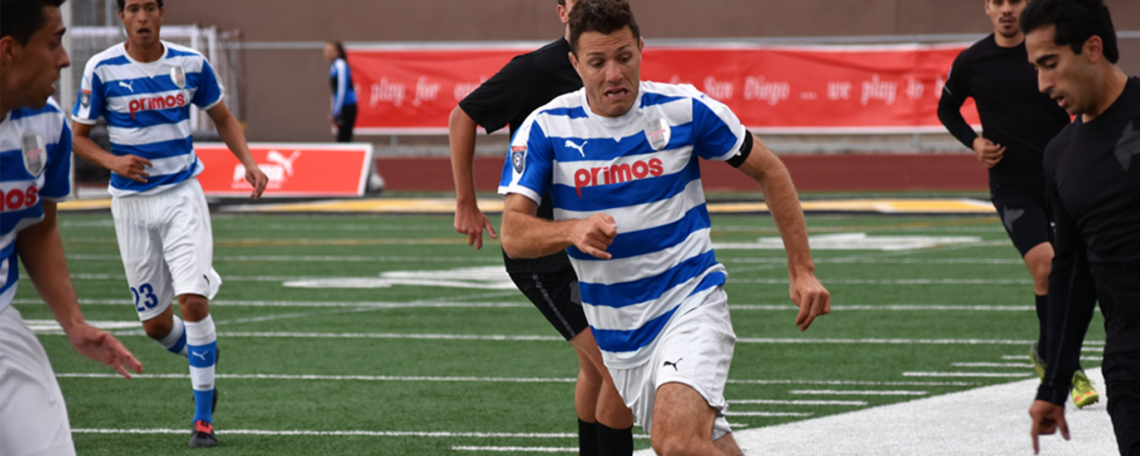 Every morning, Frankie Sanfilippo is the first to arrive at the Elite Athlete Training Center. As his teammates, many 10 years his junior begin to pull into the parking lot, Sanfilippo has laced up his cleats, stretched and is walking on the pitch with a smile.
"It means everything to me [to be back in San Diego]. This is where I'm from. This is where I always pictured settling down and raising my family. It only took 14 years," Sanfilippo said.
Sanfilippo has not represented San Diego since his time at University of San Diego High School in the late 90s. There he lettered in soccer all four years, while tallying 29 goals and 17 assists on the way to becoming a four-time All C.I.F award winner.
Sanfilippo's athletic prowess showed on the gridiron too. As a defensive back, he picked off opposing quarterbacks eight times in a single season, setting a school record.
After high school, Sanfilippo went to San Jose State University where his success in soccer continued. In 2000, he won Newcomer of the Year Award and in 2003 the San Jose Earthquakes selected him in the sixth round of the MLS SuperDraft.
Instead of turning pro as a junior, Sanfilippo remained at San Jose State University to complete his communications degree and play his senior season.
Since graduating in 2004 and prior to joining the Albion SC PROS, Sanfilippo spent time on the rosters of seven teams ‒ most notably with the Tampa Bay Rowdies.
As a four-time team captain with the Rowdies from 2011 to 2014, Sanfilippo guided the team to a National American Soccer League Soccer Bowl Championship in 2012. "It was one of the best feelings ever … it was a great moment just lifting up the trophy, getting a ring, and being champions for one whole year."
With a championship mentality and a desire to return to San Diego, Sanfilippo signed with the PROS in February 2017.
"He's a winner and a he's a leader. He is one of the most humble professional players I have ever dealt with," Head Coach Ziggy Korytoski said. "His work rate is second to none and his demand for excellence is a tribute to his personal character and integrity."
One of the younger PROS, 23-year-old midfielder Luis Cardona has already begun to draw from Sanfilippo's knowledge.
"He brings about experience and shows it on and off the field. He's a very good communicator, which joins the group even more," Cardona said. "It's an honor having him as a teammate."
Having already played in more than 300 professional soccer matches to date, Sanfilippo has high aspirations for the PROS. "I would love to start a winning streak in the NPSL. Starting the [Lamar Hunt U.S.] Open Cup is a big thing for San Diego and our club. I really want us to go far in it," Sanfilippo said.
As for giving up his cleats, Sanfilippo has no plans to retire anytime soon.
"I'll play until my legs give out."